TaurusSoft has built a customized multi-functional system for EE. It has the capacity for API connection with self-ordering, automated payment, track & trace, pickup service, and after-sales service functions.
For the security of business data, we also provide automated real-time backup of data every five minutes.
Each EE Express customer can log in with his/her account, which stores information necessary for providing shipping services.
This information includes: basic user information, information on the consigner and consignee, cash-flow details, commercial invoices, commodity declarations, etc.
Within the fully functional EE system, customers can submit shipping orders via PostNL, DPD and Chinese EMS, and appoint a local courier company as the pickup service, and also purchase packing materials.
Information storage: each customer has his/her own account, storing business information for frequent use.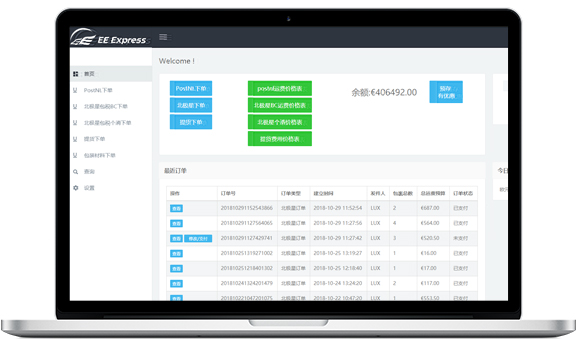 ☆ Screenshot of Customer Login Interface
Self-ordering system: after logging in, a customer can place order for sending parcels, purchasing packing materials, reserving pickup service, etc.
☆ Screenshot of Self-ordering Interface
Multi-currency: payments are automatically recorder via iDeal, bank transfer, Alipay, etc.
☆ Screenshot of iDEAL Payment Interface
Financial details: corresponding to the shipment and purchase orders, the cash flow records are clearly listed in the financial module. Each cash flow entry will be also mentioned in the comeracial invoice.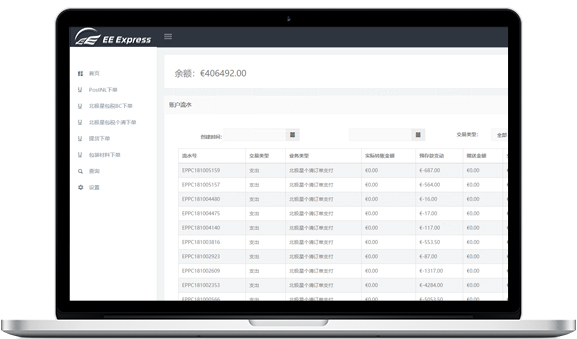 ☆ Screenshot of Cash-Flow Records
Purchase of goods: the EE system also contains a webstore module. Customers can quickly get to know more about available stock and shipping status.
☆ Screenshot of Purchase of Packing Materials
Track & trace: every shipment is recorded using a unique number and synchronized with the whole logistics process.
☆ Screenshot of Track & Trace Interface


Ordering pickup service: the system makes it convenient to appoint a local courier company, as well as to store history on previous pickups.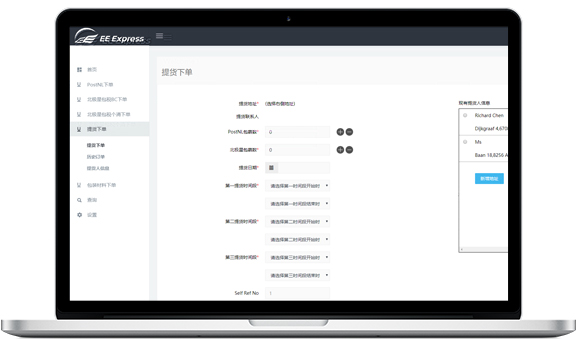 ☆ Screenshot of Appointing a Pickup Service
After-sales service: a customer may submit an application to get in direct contact with the customer support team.
☆ Screenshot of After-sales Communication
Interested? Hit us up with a message or give us a call. Click here for contacts.