TaurusSoft has built a customized multi-functional system for EE.
It has the capacity for API connection with track & trace, routes planning, internal communications, scanning, business reporting, and recording functions.
For the security of business data, we also provide automated real-time backup of data every five minutes.

---
Want to know more about robotic process automation in logistics? Click here to get a free whitepaper!
---
TMS pickup route planning: for the door-to-door pickup service, drivers' routes are planned so as to provide the customer with driver information, an approximate time for pickup, details of shipments already collected, etc.
Each driver with the current route and tasks is displayed on a map, together with all the pickups he/she has made.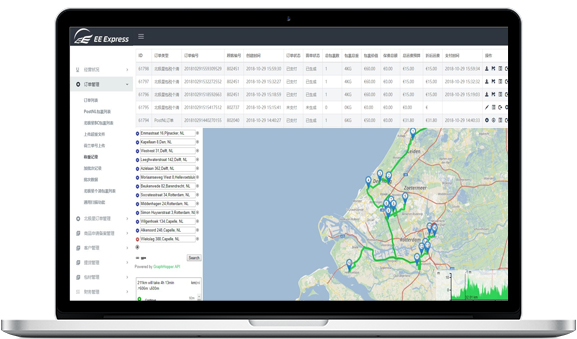 ☆ Screenshot of TMS Pickup Route Planning
Overview of each pickup route on a smartphone: driver can log in to the system via any mobile device. The most convenient way is to use his/her own smartphone. All the pickup data is synchronized and stored in the cloud. As a result, the system is independent from hardware.
☆ Screenshot of Pickup Route on Smartphone

Real-time scanning into the system: the shipment barcodes are real-time scanned via a mobile device. The scanned data will be synchronously updated in the system and stored in the database.

☆ Screenshot of Scan Record for Each Pickup Order

Pickup business report: automatic generation of various business reports in connection with pickups for an overview of the operational status. Reports may be exported in Excel, PDF, or other formats.

☆ Screenshot of Pickup Business Report
Storing history records: these records can be recalled at any time on any device. All the business data is confined to the limits of storage period and space.
☆ Screenshot of Pickup History Record
Interested? Hit us up with a message or give us a call. Click here for contacts.